Bookmark Us | Email A Friend
---
Adjustable Mountings &
Lightweight Design
CALL TOLL FREE:
1-866-200-8740


Fast USPS Priority Mail delivery on all orders!


Powered by E-FREECART.COM
secure online shopping cart.


RACERS ALLVIEW™ MIRROR (RAM™)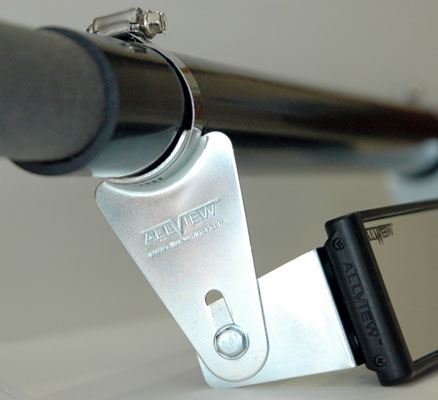 SOLID, PROFESSIONAL RESTYLING, FINISH AND LOOK






The #1 Racing Mirror of Professional Auto Racers
Adjustable Mounting Installation • Lightweight
Helps Elminiate Blind Spots • Offsets Distortion • Reduces Glare
Shatterproof Mirror • Vibration Free
RAM™ helps eliminate blind spots left by the flat mirror by providing a full rear traffic view, offsets visual distortion created by the convex mirror and lets you judge accurately what you see without turning your head to help ensure safe and accurate lane changes without guesswork, while reducing glare for safer night driving. Also shatterproof and vibration free RAM™ is your complete auto racing mirror vision solution!
Dimensions: 17-1/2" X 2-1/2"

Universal fit on any roll bar

Comes complete with adjustable RAM™ Mounting Kit
Lightweight and durable anti-UVA/UVB housing
---
Just $99.95 plus shipping & handling
Applicable CA sales tax (9.00%) may apply.
RAM™ your competition today with the
complete auto racing vision solution!